Expectations for 2022 OHS Homecoming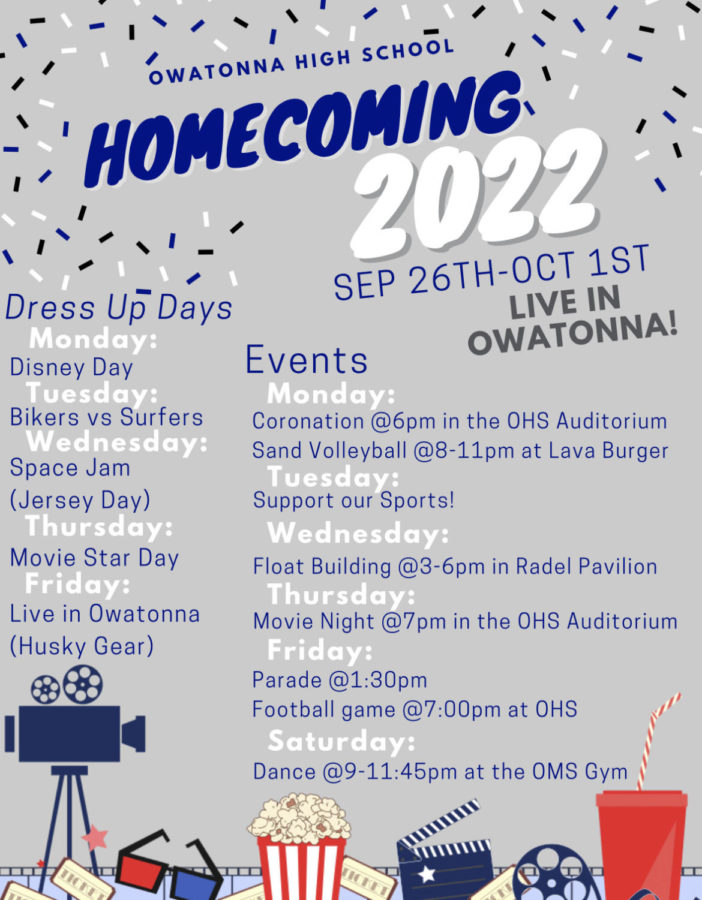 OHS students are excitedly anticipating the events included in this year's homecoming week. All activities will start on Monday, Sept. 26, giving students the chance to show school spirit. This year's theme is Live in Owatonna.
Throughout the week students can attend activities all revolving around the preparation for homecoming. Student council has been hard at work planning this year's activities and coming up with the theme Live in Owatonna. Meetings were held during the summer to brainstorm ideas for themes and the council eventually decided on Live in Owatonna. The co-chair of homecoming, junior Kali Clauson, said, "It started off very, very early in the summer. It was constantly having to meet, we had to decide a theme and what sort of activities we wanted to include throughout the week." Clauson is co-chairing for homecoming this year along with junior Jaedynn Tjon.
As the week commences, student council adviser Ms. Wendy Eggermont is most excited about the result of this year's homecoming events. She said, "I'm excited to see how the coronation rolls and I'm also excited to see the labor and planning that goes into homecoming." Ms. Eggermont is new to student council this year taking the role as adviser.
"
I'm excited to see how the coronation rolls and I'm also excited to see the labor and planning that goes into homecoming."
— Mrs. Eggermont
Homecoming week starts off with sand volleyball Monday, Sept. 26 at Lava Burger from 8:00-11:00 p.m. Students created teams ahead of time to participate in sand volleyball. On Tuesday, students can go to home games for girls soccer at 7:00 p.m. or volleyball at 7:15 p.m. Teams and organizations will participate in float building on Wednesday from 3:00-6:00 p.m. at Radel Pavilion for those who are a part of an extracurricular group. Movie night will be held in the school auditorium on Thursday at 7:00 p.m. and the movie Space Jam will be shown.
The week ends with the homecoming parade on Friday, Sept. 30, at 1:30 p.m. OHS students are given a two hour early release to be able to prepare and attend the event. Later that night the Owatonna Huskies face off against the Northfield Raiders at 7:00 p.m. The Homecoming Royalty will make an appearance at halftime of the football game. The Top 5 will be announced and presented on the field. The OHS Concert Choir will  also be singing the national anthem before the football game begins.
The Homecoming Dance will take place Oct. 1, at OMS from 9:00-11:45 p.m. for all OHS students. Tickets can be purchased ahead of time on the HomeTown ticketing app from Sept. 19-Sept. 30 before 3:00 p.m. by scanning the QR code sent to students emails earlier this week.  Buying tickets ahead of time will cost $10, while paying at the dance will cost $15.
With all the fun festivities coming this year, many can agree that this homecoming will be something to look forward to.