NHS starts off strong
On Monday, Oct. 10, the National Honor Society (NHS) held its induction ceremony for new members of the NHS. NHS is a club where students who have demonstrated academic excellence, good show in character and have leadership throughout the school plus in the community. In order to get into NHS, juniors must have a minimum of a 3.75 GPA and seniors a GPA of at least a 3.6. 
The induction ceremony started off with president of NHS, Korah Rocha introducing the morals in which NHS use to induct their new inductees. After Rocha's speech, the secretaries of NHS, Paiton Glynn and Hailey Kjersten spoke upon a few role models of the community and honored them for all their hard work. Inductees then went up to the stage as their name was called and were honored by David Smith and Maclean Pilcher. The inductees also shook hands with Principle Kory Kath as he gave them their official membership certificate.
Along with the induction, NHS held a blood drive on Wednesday, Oct. 10 from 8:00 a.m. to 2:30 p.m. The blood was donated  to the American Red Cross. In order for people to donate, students had to be 16 years of age with permission slips and 18 without. Senior NHS president Korah Rocha said, "The blood drive helps OHS because it brings us all together for the same cause. No matter who you are, blood is needed and we have the ability to help with that." NHS students helped gather the OHS community to help those in need.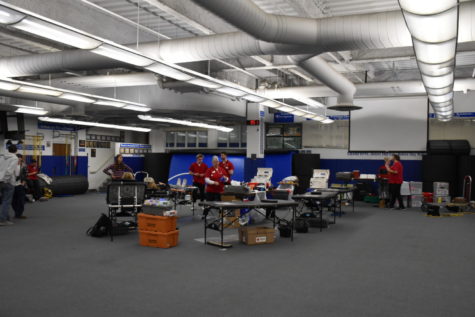 The next upcoming event for NHS is hosting a pickleball tournament as part of the cash drive week on Thursday, Nov. 17 from 7:00 -11:00 p.m. at the OHS Gymnasium. One of the goals for the fundraiser was to be unique. Mr. Mitchell Dinse, one of the new NHS advisers, said, "I think the biggest thing that we were thinking was, what's something new and unique we can do." People can sign up in teams of two through a google form in students emails.There is a $5 fee to play and $1 to spectate. The funds raised from the tournament will go to the Canopy Center.