Sending them off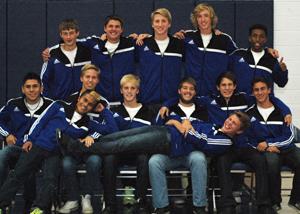 The boys varsity soccer team has had a successful season with a record of 12-1-2 and also ranked 12th in the state. Now heading into their first state game in Cottage Grove on Thursday Oct. 24th they are quite excited. The game will be starting at 5:30 p.m. at Park High School in Cottage Grove. As the student body sends the boys off all of Owatonna High School would like to recognize the seniors of the team. They brought a great deal of accomplishments throughout the year. The team overall has left a great mark on Owatonna sports for not only becoming back-to-back Big 9 champs but also becoming back-to-back section champs. Below is a reflection of the senior's mindset as they approach their last games for OHS:
Jordan Johnson – "My favorite moment would have to be bringing the section championship trophy back into the team from accepting it after the victory against Farmington."
Brenden Buryska –"My thoughts on the next game is that we win so that I can play in the next state game."
Austin Teaman –"The best moment I've had this season would be beating Farmington for the second time and becoming section champs."
Chandler Bauer –"I really liked that we had one of the most successful seasons to date."
Carter Hyronimus –"My favorite moment was beating Farmington and heading to state."
Joseph Nelson –"One of my favorite moments would be when we won against Rochester Mayo because it was such a big game for us."
Mohamed Nur –"I am so excited for this next game. I'm also staying focused both mentally and physically."
Jace Martinez –"I really love the amount of student support that we have had this year."
Carter McCauley –"It's going to be a really good game, very back and forth. This season has gone really well and our hard work has paid off. Anything past this is going to be a bonus."
Zachary Shaver –"My favorite moment was definitely beating Mayo in overtime and everyone stormed the field."
Paal Kjekstad –"I expect this upcoming game to be challenging. Two very good teams, but I see us coming out as the victor in the end."
Ricardo Maya –"Beating Mayo had to be a favorable moment. Just the way it happened and what it meant. Beating Mayo gave us the title pretty much."
Jeffrey Johnson –"The post-game B-dubs after the victory against Mayo would have to be my favorite memory."
About the Contributor
Ethan Anderson, Author
I play soccer and I am an author of the Magnet. Mrs. Wagner is awesome and so is food. Junior class of 2015. Social media is my life. Twitter. Instagram. Welcome...