Snow week falling down on OHS
Snow Week is right around the corner, and students are already getting ready for the excitement.  This year Snow Week is Feb. 6-10. The whole week is planned by the Sophomores on student council, and they have big things in store. This year's theme is MinneSNOWta. Snow Week chair Sophomore, Molly Hawkins, said, "It's going to be really fun.  It's a lot of work, but we're getting it done, and everyone better come to the blacklight dance."
The Snow Week preparations started on Jan. 20 when the Top 12 was announced.
This year's Snow Week Top 12 king candidates were Cole Bergeman, Carter Broton, Nathan Deason, Isaiah DaMitz, Daniel Keller, Konner Kubista, Boe Lueken, Jake Menden, Richard Ong, Vince Spurgeon, Goy Tut and Andrew Wall.  The Top 12 queen candidates were: Kenzie Arndt, Ellie Boisen, Amanda Collins, Bernadette Donlon, Lexi Langeland, Callie McCauley, Amy Oldenburg, Annabelle Paquin, Maya Rohwer, Sam Schuster, Ivette Torres and Kendall Travis.
The dress up days for the week are as follows: Monday – PJ day, Tuesday – Minnesota nice (fancy schmancy clothes day), Wednesday – Twins day (dress with a friend or MN twins gear), Thursday – Lake clothes day and Friday – Lumberjack day.  
Always highly anticipated part of snow week is the skits that the top five candidates come up with for the snow week pep fest, taking place on Feb. 3.  The top five candidates that will be showing skits are: Ivette Torres, Samantha Schuster, Bernadette Donlon, Vince Spurgeon, Richard Ong, Konner Kubista, Isaiah DaMitz, Ellie Boisen, Kenzie Arndt and Cole Bergeman.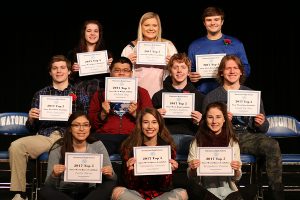 The lunch activities during Snow Week will be run the same as Cash Drive, meaning you pay to nominate people for the activity; however, the money will be benefitting suicide prevention organizations. This is the case for all activities during Snow Week. The lunch activities for the week are Monday – Musical Chairs, Tuesday – Teacher Lip Sync, Wednesday – 3 Legged Races, Thursday – Bean Bag Toss and Friday – Flapjack Eating Contest. The Blacklight Dance is on that Friday, Feb. 10, as well.  Don't forget to come to the dance in white or neon clothing to shine bright under the lights.
Something new this year to Snow Week is a Basketball Extravaganza. This year the Basketball Extravaganza is replacing the Volleyball Extravaganza.  This is a void since Murley Ball has yet to be revived in two years.  Although it is not a full season, a tournament style event is planned. It will take place on Wednesday Feb. 8 at 7:30 p.m.  Make sure you get teams together. See Sophomore, David Keller for the team forms or during lunch starting Jan. 30. Turn the forms in at the table or to David Keller by Thursday Feb. 2.
Updates on all the activities can be found on Magnet in the coming weeks!