Spreading kindness
On Oct. 25, during academic support one of the enrichments this week was the Chalk Walk. It was an activity for students and teachers to spread positive vibes through the use of the sidewalks around OHS. The Chalk Walk was organized by Change is Now with the help of  Mrs. Beth Fink and counselors. Each student drew kind messages for other students to see with the intention of cheering the days of others.
Mrs. Fink, a teacher at the OHS, is an advocate of spreading happiness throughout OHS. Mrs. Fink said, "It's awesome to see kids wanting to spread positivity to their peers. It shows that there definitely is good." Mrs. Fink, and others, enjoyed participating in the Chalk Walk because of the creativity and positivity displayed.
Freshman Zach Lenz is one of the many students who got the chance to sign up for the Chalk Walk. Lenz said, "I think it is definitely good for the students because they got to interact with each other and encourage people." Lenz really seemed to like the concept of the Chalk Walk. It got students to interact with each other in a way that individuals may not have been able to come together.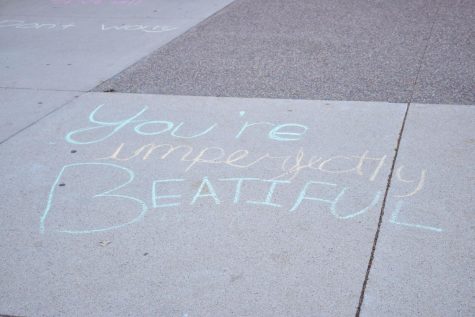 Freshman Grace Smith, appreciated the opportunity to do little things that might be the little things that other students might need to cheer up their day with the positive sayings on the sidewalk in the front of the OHS. Smith said, "Some people just need little things like this to cheer them up." She is right. The little things count and do add up.
The messages did make an impact. Those who participated continued the spread of kindness by posting positive messages on their Snapchat stories. The people that weren't involved get to see those positive words everyday. Junior Morgan Masche is someone who sees those kind and positive words. Masche said, "The thing I enjoyed most about it is that every morning there can't always be a person to encourage you or compliment you. Having those little notes are very encouraging, especially if you don't get those comments everyday." This is the positivity that Change is Now aims to spread, and there will be more to come.