Spreading holiday cheer
No one likes having to walk from their car to the inside of OHS, but when receiving a piece of candy at the door from one of the many groups involved in 10 days of giving, it makes it a little bit sweeter. Ten days of giving began in 2017 and is back again this year to bring more smiles during the holiday season. The goal behind 10 days of giving is to not only bring holiday cheer to students and teachers, but to bring clubs and teams closer together.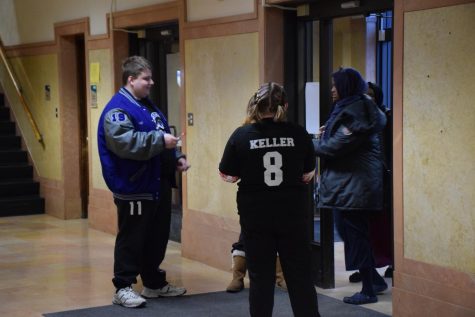 The 10 days of giving is the last two weeks before winter break where candy, quotes, legos, and other goodies are handed out to students and teachers as they walk into the building. Sophomore Candace Goodsell said, "It feels really good to walk into school and be greeted and given a piece of candy before school even starts." The 10 days of giving was first implemented last year when, now college freshman, Nicholas Hagen, started the Change is Now group.
The Change is Now group was a group of 2017 graduates that focused on school spirit. The group came up with the amazing idea of 10 days of giving, but the only problem was moving the tradition on when they graduated. NHS adviser and OHS math teacher, Mrs. Emily Paur said, "After the seniors left, the Change is Now group kind of disintegrated, so Mr. Mark Randall asked if NHS would take it on this year to continue the idea."
Many groups are involved in 10 days of giving. These groups include: boys and girls hockey, boys and girls basketball, wrestling, boys swimming and diving, gymnastics, cheerleading, floor hockey, national honor society, student council, carolers, robotics, culinary club, and dance team will be getting involved this year. The 10 days of giving is set to bring many smiles and Christmas cheer during the holidays this year.