Speaking their way to state
Amidst the plethora of Owatonna High School activities, the speech team has never received much recognition of their accomplishments. The speech team competes from February until April. This year, seniors Carolyn Stauffer and Liam Miller, along with freshman Jackson Hemann, plan to prolong the season by excelling in their events at Minnesota State Speech Tournament Saturday at Wayzata High School.
Preparation for state has not been easy, to say the least. Stauffer said, "We've been working our butts off, memorizing, implementing choreography, and working with coaches and judges." That has been the mindset not just for state preparation, but all season for Stauffer and the speech team.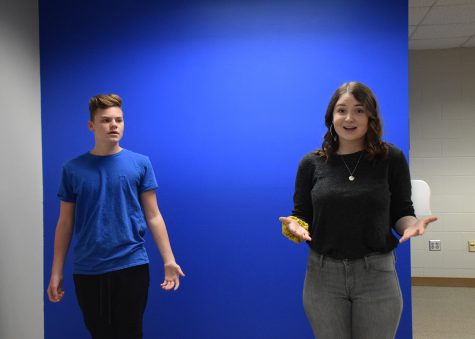 The three competitors feel they are ready to compete this weekend. Hemann said, "The last few days we've been working with coaches, teachers and community members to make sure we're ready for this weekend." At this point, it's just a matter of fine-tuning things. Stauffer and Hemann are competing together in an event known as Duo Interpretation. They have different roles and have to interpret different things based on the scenario.
Miller will compete in Discussion. He will be given a discussion problem-solving task and will then need to be able to solve it with a small group of competitors. Miller said, "It's definitely the oddball of the events, but I feel like I've prepared well for it."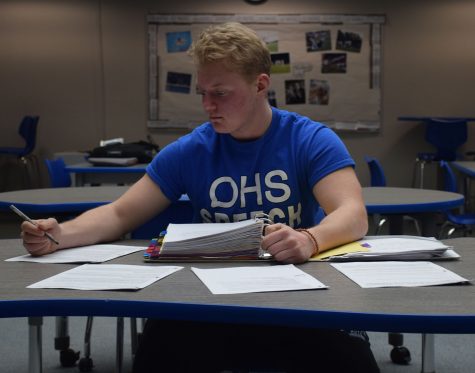 OHS math teacher and speech coach, Mrs. Marcia Anderson, vouched for the readiness of the three competitors. She said, "I feel like they are definitely ready. We've even tweaked a few things in their work just in the past few days." Hard work pays off, and Stauffer, Miller and Hemann have been working hard all season to get to this point. There will be a state send-off in Mrs. Anderson's room (G 303) on Friday at 2:45 p.m. All are invited to wish these three well as they head to the Minnesota State Tournament.