OHS FFA to Indianapolis
Seven students from the Owatonna FFA chapter attended the 92nd FFA National Convention and Expo from Oct. 28 through Nov. 1 in Indianapolis, Indiana. The convention is when members across the country get together to run their organization. During this time there are many things going on such as giving out awards won by members at the national level, electing new national officers and celebrating accomplishments made by the FFA Organization. FFA stands for Future Farmers of America, and it has been an organization since 1928. 
Attendance at the 92nd Convention was 69,944 people, one of the highest records of attendance. Chapters from states all over the country attended the convention, even those as far as Hawaii, Alaska and Puerto Rico. OHS senior Lydia Hoffman said, "I really enjoyed getting to meet new people and spending time with my fellow FFA officers." 
At the convention center, there are over 400 exhibits that students can visit, including college and career exhibits. FFA Adviser Ms. Elizabeth Tinaglia said, "I think it's a good experience. They can learn from their FFA members across the United States. They can also experience the career fair and make some personal goals and plans for themselves."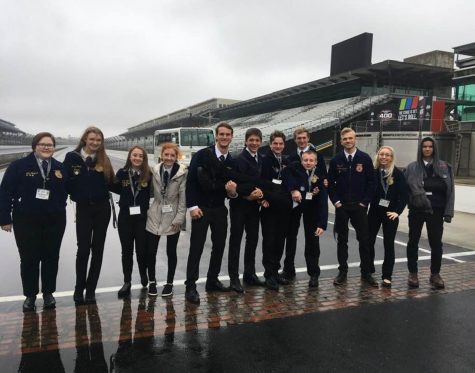 The Owatonna chapter attended multiple tours to facilities around the Indianapolis area. One of which was to Fair Oaks Dairy, a dairy and pig farm in Fair Oaks, Indiana. The tour consisted of riding on a bus around the farm and learning about the farm's practices and procedures. Along with the tours, the chapter also attended four different general sessions. The sessions consisted of award ceremonies, national officer speeches and keynote speakers. The keynote speakers included Mr. Bob Goff and Ms. Michelle Poler. Goff if a New York Times best-selling author of the book Love Does. Poler is a social entrepreneur, speaker and branding strategist.
Ms.Tinaglia has been bringing students to the National Conventions for many years and recommends for members to go. Ms.Tinaglia said, "It's an eye-opening experience. It's neat to be in a location where you have over 60,000 FFA members. Everybody is wearing a blue jacket and you see them from every different state from all over and it's really neat." This is an annual event that takes place at the end of October every year since it started in 1928.