Funding the fight against cancer
Owatonna's fall and winter sports teams have been working hard throughout the season to raise money for different sports programs at OHS. Apart from using the proceeds towards new equipment and utilities, these sports teams have been raising money to donate to different cancer research organizations. Multiple sports programs have been hosting cancer awareness nights during home games to spread awareness and raise money for the cause. Each sport may host a charity night. The teams have an organization and their own event to raise money towards a certain cause.
Many sports teams are involved in raising money to support different cancer organizations. Last fall, the football team raised over $4,700 during the Tackle Cancer fundraiser. The Huskies Tackle Cancer proceeds went to the Randy Shaver's Cancer Research & Community Fund. The Tackle Cancer event was brought to Owatonna in 2010, by OHS social worker Ms. Nancy Williams. Throughout the last decade, Ms. Williams has donated the cancer night proceeds to multiple organizations, including From the Heart, Relay For Life and Randy Shaver's Tackle Cancer Fund. The fundraising for these events includes: selling T-shirts, money donations from the Tackle Cancer game and donations from staff and students throughout the school district of Owatonna. Each year the amount raised has been increased. This year's donations doubled from the 2018 season which raised over $2,000.
The gymnastics team raised $2,025 during their stick it to cancer fundraiser for the Maas Family. Fundraising for this event included selling t-shirts through the Hat Chic for the gymnastic team's very first stick it to cancer night, which was held on Dec. 19, 2019. Senior gymnast Jada Federly said, "Cancer nights through the various sports at the high school show the families that they are raising money for that there are so many people that truly care."
Girls hockey held a silent auction during their game on Jan. 11, along with the 50/50 raffle, luminaries for loved ones and a treat table. All the proceeds raised during the event went to the From the Heart organization on behalf of the Owatonna Huskies Girls Hockey Association. Likewise,  boys hockey is selling T-shirts through the Hat Chic for their stick it to cancer night on Jan. 28. All the proceeds from the fundraiser will be going to From the Heart.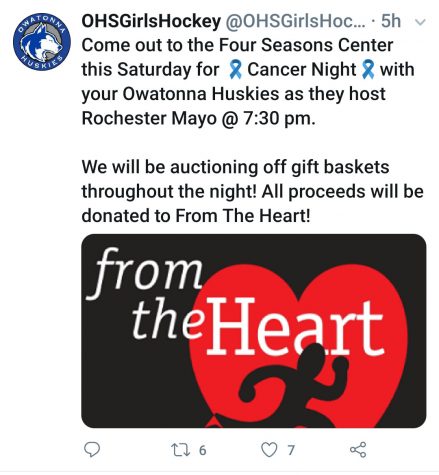 Girls basketball will be holding a silent auction for raffle baskets during their home game on Friday, Feb. 7. All proceeds for this event will be going to Rachel's Light, an organization providing a safe space for women and children who are living in homelessness. Senior girls basketball player Sara Anderson said, "The basketball team feels this is a good organization to donate to because there are many people within our community who can use a shelter." Previously, the girls basketball team hosted a "We All Play" fundraiser night in 2018, which generated $2,000 towards a playground where kids of all abilities can play. The boys basketball team is selling T-shirts through Court Sports for their home game against Albert Lea on Jan. 31. All donations will go to the Osmundson family and Relay for Life.
All in all, the sports community of Owatonna has proven that all people can come together to fight for a good cause. Donations can be made the day of the events and event T-shirts can be ordered through the organization or the local business owners' order forms.
About the Contributors
Jasmine Ziegenhagen, writer
Jasmine Ziegenhagen is a senior at Owatonna High School. This is her first year as a staff member for Magnet. Ziegenhagen has seven siblings and believes...
Tyler Harris, Writer
Tyler Harris is a senior at OHS. This year Harris is involved in soccer and tennis. Outside of school, Harris spends his free time working in the Hy-Vee...