Closing the office door
Ms. Berdan retires after 19 years at OHS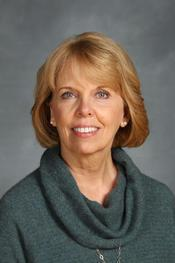 It can be said that every ending starts a new beginning. While the end of the 2019-2020 school year will be temporary for those coming back next fall, it is the last ride for some. Ms. Vicki Berdan has been a counselor at OHS for 19 years and will be retiring at the end of the school year.
Ms.Berdan is a well-educated individual. She has acquired three degrees in her education career. Berdan attended Minnesota State University Mankato for her first degree in Family and Consumer Science (FACS) Education, which she got in 1983. She then went to teach FACS at Ortonville K-12 school for six years, before going to teach at Waseca High School for another 12 years until 2001. Even while teaching her students, Ms. Berdan kept busy. While teaching at Waseca, she received two more degrees. In 1997, she got her Masters in Education from The College of St. Scholastica. Then, in 2001, she received another Masters degree in Secondary School Counseling from MSU Mankato. After receiving all three of her degrees, she began working as a guidance counselor at OHS and has been at the school ever since. The students are what make her happy working the job. Ms. Berdan said, "My favorite thing is working with students and getting to know them, and helping them in any way I can."
"
My favorite thing is working with students and getting to know them, and helping them in any way I can "
— Ms. Berdan
Ms.Berdan's first job in education was a Family and Consumer Science teacher, which she taught for a total of 18 years. Berdan wanted to become a FACS teacher to learn and teach about life skills. Things like family dynamics, healthy relationships and understanding children at different developmental stages are what she wanted to learn and teach about. She believes that these topics are important. While teaching FACS, she had gotten to know some of her students on more personal levels. Students would come to her in troubling times to talk, and she felt that it was something she wanted to keep doing. She decided to pursue a degree in counseling so she could continue to help kids. Ms. Berdan said, "Counseling allowed me to do a lot of what I did in the classroom, but in a one on one setting which I feel better fits my personality. In teaching, I did a lot of the talking, but in counseling, I do a lot of questioning and listening. Overall, I feel my career in education was exactly what I was meant to do with my life."
While Ms. Berdan has enjoyed her time working at OHS, it is safe to say that the end of her education career is not what it should have been. With the current situation because of COVID-19, Berdan, like many others, has had to stay and work from home for the rest of the school year. Berdan said, "It's different because when I was in the building I could go up to a classroom and have a student come out to the hall if it was just something real brief. I can't do that now. It's much more difficult to make those connections with this kind of format." Even while having to work from home, Ms. Berdan has been able to work well and keep in contact with some of her students. 
Ms. Berdan plans to have a quiet retirement life. She plans to move up to a lake home in Northern Minnesota, where she will enjoy her time relaxing doing activities on the lake and volunteering. Ms. Berdan said, "It's been an absolute joy to work at the Owatonna High School. I just have never been so happy at anything I've done as I have been being a counselor at OHS." Though the ending of her education career is what it seemed it would be, she is proud of what she has experienced and accomplished. OHS Counselor Margo McKay said, "She is one of the most kind and compassionate people I know, and she cares so much about kids and families. She has been an asset to OHS for many years and has made a direct impact on hundreds of kids.  We will miss her positive attitude and kind heart." Berdan will miss the Owatonna High School and its students and staff.