Matt Seykora continues his baseball career at SMSU
The biggest thing that stands out about senior Matt Seykora's baseball game is his work ethic. Seykora has been playing baseball for as long as he can remember and has decided to continue his education and baseball career at Southwest Minnesota State University (SMSU). Seykora is very involved at OHS, participating in wrestling, football, NHS, as well as baseball. On top of playing Division II baseball, Seykora plans to major in Ag business at SMSU.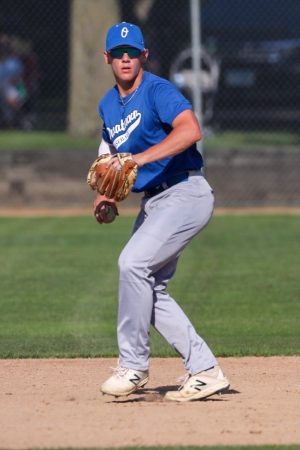 Seykora was introduced to SMSU's baseball coach by Huskies' Head Coach, Tate Cummins. With last year's baseball season being cancelled due to COVID-19, this made the recruiting process a little more difficult because college coaches could not watch the players play. SMSU's Head Coach Paul Blanchard said, "It was really difficult to see high school kids play last year, so you had to rely more on high school coaches recommendations. Coach Cummins recommended Matt to me and said he is the hardest working kid he's had. He is also an excellent student, so those are some reasons why we wanted him to come to SMSU." 
For Seykora, he cannot see his future without baseball being a part of it. He has been playing baseball since he was four years old and wants to keep playing for as long as he can. That is why he wants to play college baseball; he just enjoys the game. Seykora believes SMSU is a great place to continue playing the game he loves because they have his best interest for baseball and his future plans. Seykora said, "I chose SMSU because the coaches said I have a strong opportunity to play right away. It is also a big Ag school, so it fit perfect with my intended major of Ag business." 
"
Matt is always ready to work hard and is a great leader on and off the field."
— Caleb Vereide
Getting to the next level is not an easy task, but Seykora's teammates and coaches believe that he has what it takes to thrive at SMSU. Head Coach Tate Cummins said, "Matt is a unique player, because he can play almost every position in the infield. He's a strong athlete that can drive the baseball to all fields as well. Mix in his intangibles and he's a candidate to excel at the next level." Seykora is not only a talented baseball player, but he also has a work ethic that motivates his teammates everyday at practice. Teammate junior Caleb Vereide said, "Matt is always ready to work hard and is a great leader on and off the field." Seykora's work ethic and leadership is what makes him stand out and shine on the baseball field.
Seykora has a lot to look forward to at SMSU including: playing the game he loves and studying Ag business. Coach Cummins believes SMSU is a great fit for Seykora and is also excited to see what he does at the next level. Cummins said, "It's a great fit. His area of interest and program is a strength at SMSU. The baseball program is also an excellent fit because they have his best interests. This seems like a great fit for all involved." With Seykora's determination in everything he does, there is no doubt he will thrive on and off the field at SMSU.