Piepho dives into state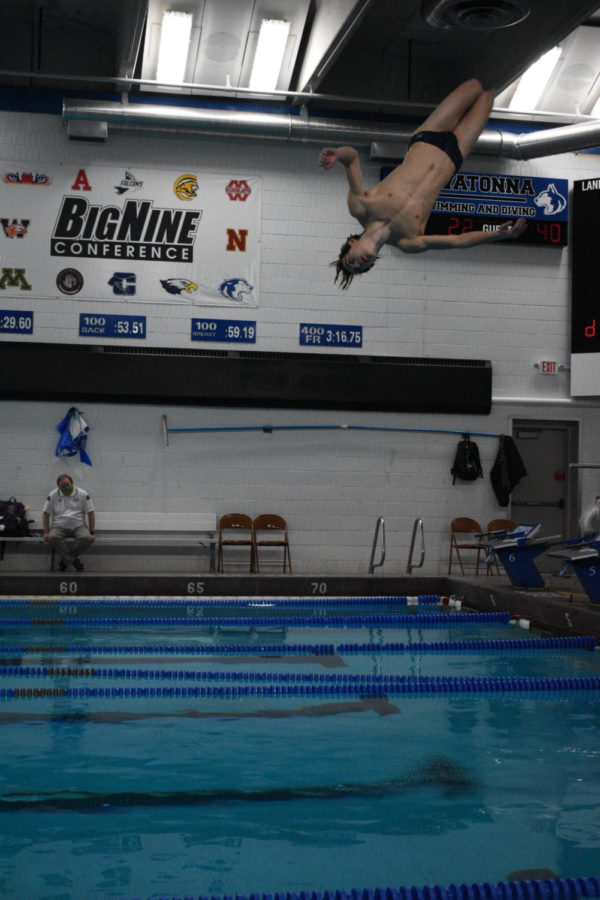 The OHS divers went into sections ready for any challenges and came out, sending Cole Piepho to state. Junior Cole Piepho qualified with a 277.20, beating his previous best by 55 points. He placed fourth followed by teammates, Henry Hilgendorf in fifth and Ethan Peterson in sixth.
Piepho is a team player and pushes the rest of the dive team to continue to work hard. Diving coach Kasey Leiferman said, "I do feel that he gave the other guys [Hilgendorf and Peterson] the push of confidence they needed to do bigger dives and dive to their full ability." Having known the other divers before the season started, through different sports, means he fit right in with the team. Piepho said, "It's pretty fun to do both cross country and diving, with new things and both teams are really awesome." 
He has grown because of hard work and a dedication to the sport. Piepho will be heading to state with an 11 dive list that includes a front dive, a back dive, an inward dive, a reverse dive and a twist dive. Piepho joined diving this year, he said, "I thought I had a chance. But I didn't think I would make it to state." Piepho put in a lot of effort this year, to get to where he is. He put a lot of time into practicing his dives. Coach Leiferman said, "He never misses a turn, he is always willing to try new things. He is fearless, which helps a lot." 
Piepho has learned new things this year and will be back next year to continue this pursuit of diving. Coach Leiferman said, "He has grown tremendously and will continue to grow if he keeps up his hard work and positive attitude." Piepho will be diving at state prelims at 6 p.m. at the Jean K. Freeman Aquatic Center in Minneapolis on Thursday, March 3.