Brayden Williams commits to Bemidji State
Brayden Williams lives for basketball. Being the son of head basketball coach Josh Williams, he has grown up around the sport. Although Williams is also a great cross country runner, basketball has always been most important to him. His unmatched work ethic and tremendous skill has given him the opportunity to play basketball at the collegiate level. 
Next fall, Williams will be taking his talents to Bemidji State University as one of their highest recruits in the class of 2022. The recruitment process has been hard for many high school players who are trying to play basketball at the next level. COVID-19 has caused less open roster spots for incoming recruits, because college players are able to stay extra years from added eligibility. This made Williams want to commit relatively early so a roster spot would be guaranteed.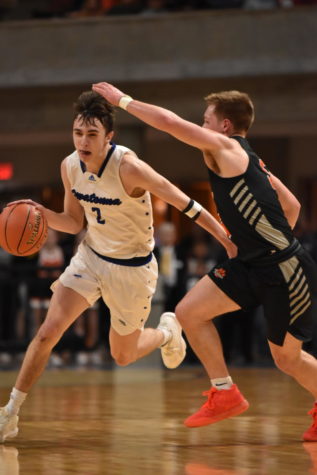 With that being said, Bemidji turned out to be the perfect landing spot for Williams. Williams said, "I chose Bemidji because I loved the campus itself, I was able to meet a lot of the players and got along with them very well. The relationship I formed with the coaches became very strong and I thought it was the right fit for me." Williams has been a starter for the Owatonna Huskies for three years and surpassed 1,000 points earlier this season. He is one of the most accomplished players to ever go through the Owatonna Basketball program and still has the ability to accomplish more.
Williams is a knock-down shooter and has a tremendous basketball IQ. Head coach of the Owatonna Basketball team, Josh Williams said, "What I heard consistently from college coaches during the recruitment process was his basketball IQ, court vision, and passing were off the charts and some of the best they have seen." 
Williams was being recruited as a point guard and with his height of 6'2 and wingspan of 6'5, and finally his ability to shoot it so well from deep, he became a very intriguing prospect for college coaches. Williams is undecided on his major but is interested in pursuing teaching and coaching, following in the footsteps of his father.