In my own words: Committing to my lane
My name is Logan Norrid, and I am a senior at Owatonna High School this year. Ever since I was little, I have always loved being around water, whether it be the ocean, community pool, or swimming lessons; this is what inspired me to become a swimmer in second grade. Recently, I decided to continue my education in International Business and Chinese at the University of Rhode Island, where I have been given the opportunity to continue my passion in swimming at the Division I level.
---
NCAA Athletics Statistics
Playing at the highest level is a goal of many young athletes, but statistically according to Scholarship Stats only one in 15 high school athletes in all sports will go on to play in college, and even fewer, one in 57, will play at the Division I level. Each sport has slightly different statistics, but the average for all sports is that about seven percent of high school athletes will play in college. Less than three percent will play in NCAA Division I. 
In NCAA swimming, only about 7.5 percent of all female high school swimmers will compete at the NCAA level; only 3.3 percent will compete at the Division I level, with even fewer earning a scholarship. Due to the limited number of athletes that compete on a Division I level, it takes hard work, time management, and sacrifices to be on a Division I team. One of the main sacrifices an athlete training for a Division I sport has is to give up competing under the high school team or other sports the athlete is passionate about, an athlete must also have good time management skills. 
In 2016, my family decided to move to Owatonna, MN, from Minnetonka, MN. In Minnetonka, I played all kinds of sports, including dance and soccer, being some of my favorites. When we moved, I had been swimming for five years and loved every second. When we moved, I had to change swim clubs from the Hopkins Hurricanes to Atlantis Swimming Federation in Faribault, MN, because Atlantis was the nearest USA Swimming affiliated club.
Driving the twenty-minute drive to practice was relatively easy to maneuver my life around. However, in the summer months, when swimmers train outside in 50-meter pools, the drive to Austin, MN, becomes 40 minutes. That drive to practice every morning in the summer and other factors took a toll on my love for swimming, so I decided I needed a change. 
After my eighth grade high school season, coming off the high of winning sections and placing at the MSHSL AA State Tournament, I changed clubs. The next nearest club was South Metro Storm in Lakeville. During the school year, I would spend 45 minutes to an hour sitting in a car; I would have to bring homework to do while my parents drove me to and from practices. 
When I turned 16 and could drive myself to and from practice, it took an hour and a half to two hours out of my life. With two hours gone and requiring eight hours of sleep every night, I  learned to fit everything else I needed to get done into small windows in my schedule and learn to use a calendar consistently.
The Recruitment Process
High school student-athletes who want to play at the collegiate level must be proactive in communicating with coaches. Athletes should reach out to tons of schools in all division levels and see which ones become a good fit depending on various factors. Emailing, phone calls, recruiting questionnaires, and in-person meetings are all great ways to start getting familiar with the coach and it is a good idea for the athlete to tour the school on their own or take a virtual tour on the school's website.
Not only does a high school athlete need to use good communication skills during the recruiting process, but it is also critical that they are able to continue to balance athletics and academics. Without time management skills all these areas of an athlete's daily schedule can become chaotic and stressful.
During the recruiting process for women's swimming, I reached out or talked to many schools around the country, from big power five schools to Divison III schools in Ohio I have never heard of before. Only a few athletes get scholarships at big DI schools; others get none. By the end of my junior year, I realized I wanted to help whatever future team I was on and score points at conference. Being a scholarship athlete at the school I chose would solidify that I mattered to the team and coaches.
Visits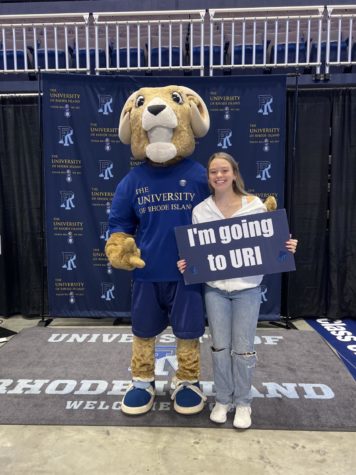 In April of my junior year, I traveled to an unofficial visit. We spent the day walking around campus, exploring the athletic facilities, and getting informed about how NIL deals work. When it was my turn to meet with the coaches, we discussed the exact amount of time they wanted me to drop to get a scholarship and that I would only receive an offer with a scholarship.
Coming home from the visit stressed me out, which affected my swimming ability. I did everything I could to drop time, but it did not happen in the time frame they wanted. The pressure I was under to get drop time in my top events had a huge impact on my swimming abilities causing me to be more focused on the result than having fun and loving the sport. That was when I took my official visit to the University of Rhode Island and received an offer about a week later. Not only did URI want me to swim for them, but the school also had all the majors I was looking for, and in a location I could see myself being in. I felt like a weight had been lifted off my shoulders when I finally committed to swim at URI; my first meet after I signed my letter of intent, I ended up dropping two seconds in an event I havent dropped in since Freshman year.
Pressure to be a competitor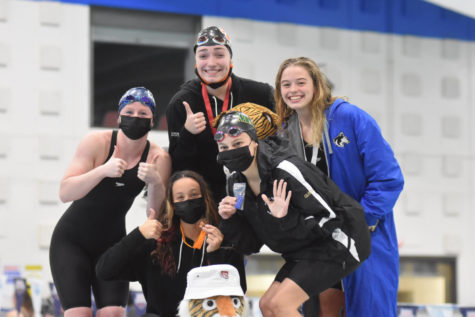 In order to be recruited to play collegiately however, the athlete must be able to perform at that competitive level. Most athletes competing at the collegiate level were competing year-round, high school varsity level, or on a club team. Some teams can push an athlete to their furthest potential. However, many cannot, and it requires additional training to get to a collegiate level.
In swimming, high school events are only half the events in that an athlete can compete at club and collegiate levels. Not only that, club sports might require a more significant time commitment, but athletes have the opportunity to travel to out-of-state competitions and compete year-round, gaining more exposure to college coaches (NCSA). Those are the main reasons a high school athlete may compete for a club year-round rather than a high school team for three months.
In the fall of my senior year, I did not come back to swim as a Huskie for my final season. I decided to focus on gaining back all the muscle weight I lost over COVID by doing CrossFit in Owatonna. During this time, I also committed and signed to swim for the University of Rhode Island in the fall, and all the stress of recruiting was lifted off my shoulders. On top of all the dryland, I also continued to travel up to South Metro Storm for swim practices. By December, I had already felt the difference in my swimming, and it was proven in January when I dropped over two seconds in the 100 back for the first time since freshman year. 
The club state meet is a big meet typically hosted at the University of Minnesota Jean K. Freeman Aquatic Center in the middle of March. At this meet, I dropped three seconds in my 200 SCM Butterfly and was able to put up a South Metro Storm team record and place fourth. That time would have also been a scholarship cut for the school that I took an unofficial visit to; I was just more focused on having fun at possibly my last club meet than stressing about time cuts. I was also part of a 4×50 medley relay, where I swam the backstroke leg and ultimately won the honor of being state champion.
The Impact
Deciding to get stronger and do what was best for me and my journey was a scary decision but definitely the right one for me. Sometimes the five hours a day dedicated to swimming and getting better in the water is worth it in the end. 
Many high performance athletes are willing to do whatever it takes to get to the next level. If an athlete is planning on taking their talent to the next level, it is important to set goals and continue striving for them each day. It is important to recognize what your body needs when it comes to training and not to give up on goals easily. It might take some hard work, but if you stick with it you will be successful.
---
I am incredibly thankful for the ability to be able to train and compete at the level I do, and it would definitely not be possible without the help from my family, who have supported me through all my years of swimming. Not only do I have an amazing family that has supported every step of my journey, but I also have had some great coaches who have helped shape me into the athlete I am today.