Guatemalan Education
Back in November, Owatonna High School competed against Faribault High School in the annual, week-long Cash Drive event. This year, OHS students raised money for students in Guatemala to further their education. OHS raised a total of $10,463.29 for the Yuda Bands charity. The money raised will sponsor eight childrens' dreams of receiving an education in the impoverished country: a dream that not many kids see come true. This year's donation was a record breaking one for Yuda Bands. In a press release on their site the organization said, "In all our years of certificate making, we've never made one quite like this! With a combination of selling Yuda Bands and taking straight donations, Owatonna High School in Minnesota has funded over 20 years of education for students in Guatemala! Simply incredible."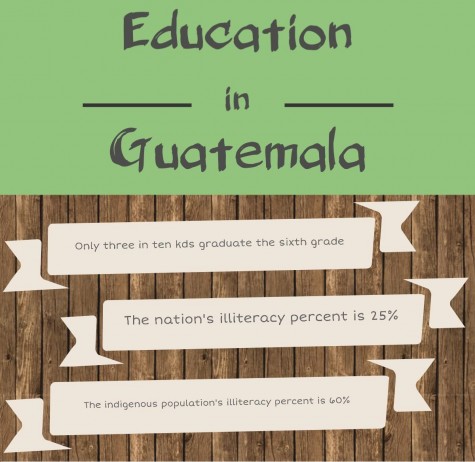 The donation from OHS was the biggest one the Yuda Bands Foundation has ever seen. OHS Student Council adviser, Julie Haugen was surprised to hear this, but she believes that most schools only sold the bracelets, while OHS received donations alongside sales.
OHS Student Council member and Cash Drive chairperson Grace McClintock said, "It was a very successful project, and I'm really happy with how it turned out." Knowing that the Owatonna community, alone, can support eight students and help them realize their potential, is quite amazing. McClintock heard about the organization and the opportunities behind it at the National High School Student Council Convention in Orlando this past year. It was such a success this year, because there were a lot of different activities and a greater hype around Cash Drive this year. Many of the favorite events from last year were carried over to this year, and the Man-geant continues to be a huge success.
"
I had to quit studying for three years because my parents couldn't afford to send me"
— Gloria Ajquejay, 17, Guatemala
 The sale of the Yuda bands, alongside activities such as the Man-geant and laser tag, greatly helped fuel the fundraising efforts. OHS Student Council gave all of the profits to the children. These students all share a similar lifestyle, many of their parents are farmers and housewives. Some families have too many children to send them all to school. Yuda Bands helps kids like Gloria Ajquejay who said, "I had to quit studying for three years because my parents couldn't afford to send me [to school]."
A free education is something that many overlook. With charities like Yuda Bands and the donations from OHS, recipients will have chances to better their lives through education. Find out more about the eight students supported by this year's donation here.