Stand in gold
As younger students, some teachers had the system of awarding students, who did well, with a gold star sticker. After entering high school, it almost seems unexpected for teachers to award or praise their students as much as their elementary counterparts. However, all know a number of teachers who give praise through different ways: comments on papers or tests, stickers and verbal praise, to name a few. But at the academic and scholarship program on May 27, the school awarded and praised many students who have done well in their studies and announced those who have earned scholarship(s).
The program consisted of two parts, handing out scholarships and awards and honoring students of both distinction and high distinction. Without the recurring scholarships, free tuition award and incoming scholarships, the monetary total handed out, nearly reached $200,000. With over a hundred scholarships awarded and 87 recipients, several students received more than one scholarship. A number of community members and staff attended to announce recipients and award the respective scholarships. Aside from scholarships, scholastic awards were also announced. The different categories included Journalism, Language Arts, Mathematics, World Language and Student Council.
The science department awarded junior Tyler Kain with the Bausch & Lomb University of Rochester, NY scholarship. This award is given to a student who is a junior, showed academic excellence in science and has high PSAT Math, SAT Math and/or ACT Science/Math scores. Kain said, "I appreciate the science faculty for thinking of me for this award."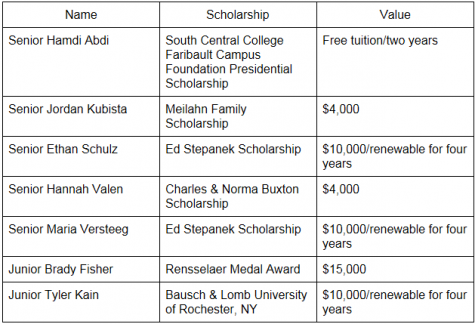 Ethan Schulz and Maria Versteeg were awarded the Ed Stepanek Scholarship. This scholarship was given to two seniors who intend to major in the field of science, math, engineering or medicine. They must also attend a four year, public university. Schulz said, "It was truly humbling to be recognized in the awards ceremony. I am extremely thankful for the community for giving me this opportunity."
Hamdi Abdi was awarded the Presidential Scholarship, to attend South Central College (SCC). This award provides full tuition for two years. The requirements are; seniors must be admitted as full time SCC student, have a 3.75+ GPA, exhibit leadership skills and community involvement. Abdi said, "Getting my scholarship was amazing and it showed that hard work really pays off. I'm very grateful and excited to start college and start this new chapter in my life."
The last part of the program was dedicated to honoring the academic performances of students. Honored students were given a gold tassel and gold rope to wear upon Graduation. These bright and contrasting colored garments will help to distinguish these students as those who put the extra effort to maintain their grades throughout their high school career. Congratulations to all the students who earned distinction, high distinction, won scholarships and scholastic awards.
About the Contributor
Sixto Salinas, Writer
Stuff about me: I'm a senior. I participate in Wrestling. I am Hispanic. I'm drug-free. I'm 17 years old. I have a family of nine plus one dog. I wear...