Appreciation Week: Administrators
Mark Randall, Assistant Principal Nicole Adams and Assistant Principal Jeff Miller are perhaps the most well-known names at the Owatonna High School. Students and staff at OHS are aware of the administrators, but they might be surprised to hear the details about their jobs. When asked about their daily routines at the high school, the three administrators had one thing in common: no two days are ever the same. Their many responsibilities include coordinating and carrying out state testing, working with students regarding attendance and discipline, evaluating teachers' performance, preparing the master schedule and hiring new staff members. While students are in the classroom, the administrators are juggling emails, meetings and events all while maintaining personal relationships with the students and staff of OHS.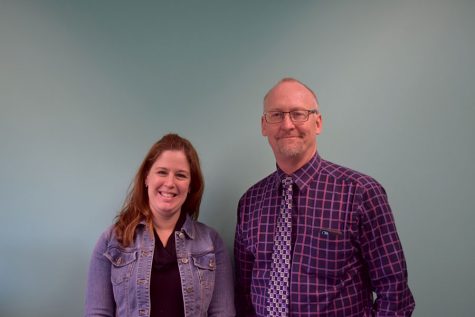 Some students might think that the administrators enjoy disciplining students, but that is not the case. Principal Randall says he does not like dealing with bad student behaviors, "

"

I do not wake up each morning hoping I have to make what could be a life changing decision for a student, but you also have to hold students to high standards. I hate having to make that call to a parent, but it is necessary."

— Principal Randall

Assistant Principal Adams agrees, saying, "Not often, but sometimes there are situations where it is difficult to develop a resolution that meets everyone's needs." Dealing with these difficult issues can be tough, but the OHS administrators are trained to handle situations when they do arise.

Though their jobs are hectic and stressful, the OHS Administrators find joy in seeing students grow. Principal Randall says, "Working with staff and watching our students grow socially and intellectually," is the most rewarding part of his job. Principal Randall looks forward to graduation, when he can see just how far students have come in their four years at OHS. He said, "Graduation is by far my most favorite time of the school year because you get to see the end product of the great things our staff does in our school district. It is really a culmination of the hard work our students have put in and the great work our entire staff does district-wide." Assistant Principals Miller and Adams think similarly, Assistant Principal Adams says, "Seeing students be successful and leave OHS with a well-rounded education that is going to be the foundation for them to be in control of their own lives as independent adults and not have choices limited by lack of academic, social, emotional or behavioral skills," is the most rewarding part of her job.

Though they are well known throughout the school, it is easy to forget just how much the administrators do for OHS. During appreciation week, make sure you take a second to thank our principals for all that they do for OHS.