58th Annual Pops Concert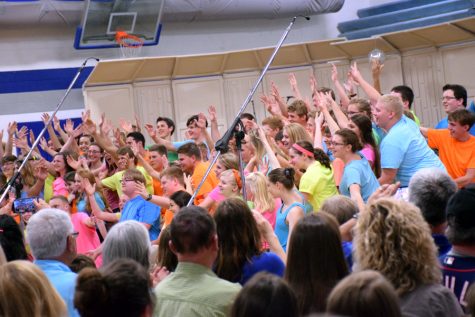 On the warm and sunny evening of Tuesday, May 24, ten days before the end of the school year, the Owatonna High School gymnasium was filled with members of the community for the 58 annual Pops Concert which is put on by the OHS Music Department. All bands, orchestras and choirs, including Husky, Varsity, Concert and Symphony, performed a number of different pieces of music complete with choreographed dancing in a few cases.
The concert started out with the Master of Ceremonies, Jodie Dekam, welcoming the audience and introducing the first group, Symphony Orchestra. They played Suite From Video Games Live, which combines music from a number of game soundtracks, including Halo, Civilization IV, Bounty Hunter and Kingdom Hearts. Next was the Husky Choir who sang songs varying from classic rock to electronic pop. One of the songs was Fireflies by local artist Owl City. Varsity Band and Husky Orchestra both played music from the soundtracks of well known Disney movies- Pocahontas and The Lion King. Varsity Choir brought the audience a real "high school musical" with plenty of singing and dancing. They performed We Are Young (Best of Glee Season Three). Husky Band played sections from Mulan's soundtrack. Varsity Orchestra took the audience back with The Magical World of Pixar, which included themes from iconic films such as Cars, Toy Story, Finding Nemo, Ratatouille, Up and The Glory Days. All the while, a choral medley from the musical Kinky Boots and original choreography was performed by Concert Choir. The last performance was given by Concert Band, who played symphonic highlights from The King and I. The final song of the concert, also played by Concert Band, was a collection of music from the Star Wars Ep. VII The Force Awakens soundtrack.  
Before the Concert Band played, music directors took time to thank Music Boosters of Owatonna for their help and support to music education throughout the district. They also recognized students for their achievements and dedication by service. Senior Riley Arthur received the National Orchestra award and was awarded with portrait for being chosen. The portrait, drawn by senior Cheyenne Krampitz, is of him playing his Bass. Arthur said, "I feel fulfilled, like all my hard work has paid off." Both Arthur and Krampitz received $250 scholarships from the Music Boosters Association for their dedication and hard work. This is the first student portrait drawn with color and will replace 2015 OHS graduate Ella Rasp's portrait in the OHS office, which was also drawn by Krampitz. Arthur's portrait will hang in the office until next spring when the next student is awarded at the 2017 Pops Concert.