Magnet's 12 Days of Kindness
Feel free to @ohsmagnet on social media
Volunteers don't usually have loads of time on their hands, but they decide to make personal sacrifices for the sake of others. The purpose of the "Kindness Calendar" is a countdown to through the holidays while instilling the importance of giving back into the season. Small intentional acts of kindness such as holding the door for someone, are some of the most important. The little things add up to big things. Teenagers are the next generation that are going to have an option to make a difference in our world. It's important that we start making the little sacrifices now to encourage the bigger ones later. Participate in the kindness calendar this season to give yourself the chance to make small sacrifices for others as a countdown to the holidays. Feel free to tag @ohsmagnet in your photos of you doing these acts on instagram and twitter and earn a Magnet wristband.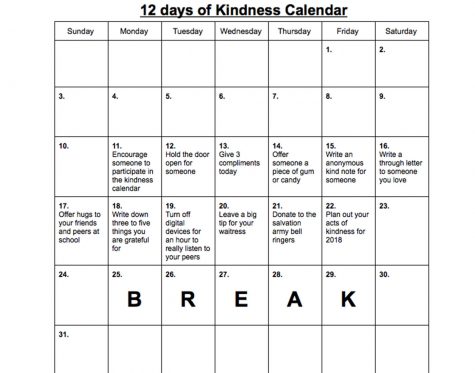 Please Participate with OHS MAGNET in 12 Days of Kindness! Send us Tweet/ DM us your photos of your work and earn an OHS Magnet Wristband
About the Contributor
Jade Hanson, Editor-in-Chief
Jade Hanson is a senior at Owatonna High School. This is her third year being a part of the OHS Magnet family, and she is ecstatic to be taking on the...