Life of a performer
Student spotlight: Kyra Rahn
A charismatic, genuine character takes center stage in this week's student spotlight; her name is Kyra Rahn. Not only partaking as the student spotlight, she will also be taking the theater spotlight in the upcoming Owatonna High School production of Sylvia on April 19-22. Rahn will be performing as the lead role of Sylvia, but this will not be her first lead role as she has been the lead in a few other plays and musicals. She has even performed a one person show. Along with theater, Rahn participates in choir, dances with Just For Kix and managed for the dance team.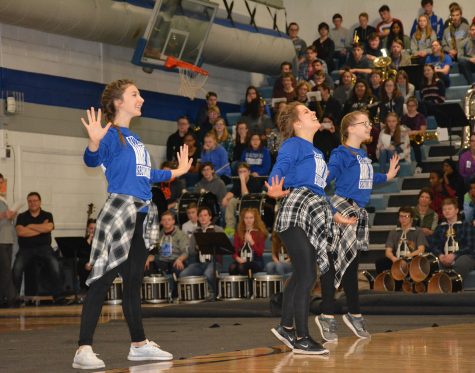 Needless to say, Rahn's background in performing is a gift that she loves to share with others. She first started performing at Medford in third grade when her parents asked her if she was interested in joining the show choir a musical performance with dancing and singing. From there her love for performing grew. Speaking about her parents, Rahn said, "They couldn't be more supportive in my theater and dancing career." Along with her parents she is very close to her sister as well. They dance together often, and the students of OHS even got a taste of their combined dance skills at a pepfest earlier this year when Rahn was voted a snow queen candidate.
Rahn started at OHS as a transfer student and worked her way up to a snow queen candidate. She says she owes her social success to her own open personality. She said, "This year I just felt open about myself and ok with just being like – this is me." Opening up to the Owatonna community has paid off. Rahn has become known across town for her outstanding performances. Recently she performed in the NHS talent show. The event was held on Saturday, Mar. 17. She performed a self choreographed dance and earned her way to a first place finish.
Rahn has had much success already in her performing career in Medford and Owatonna, and she plans to continue after high school. Acting is not the only thing to come for Rahn. She also wants to travel out of the country someday, and says she would love to visit South Africa. No matter which way her future goes she is sure to be a positive influence on those around her.  She does not know what post-secondary school she will attend to advance her acting and dancing, but she knows she will remain in the arts programs for much of the future.