Squid Game is taking over the world
Korean thriller Squid Game has become a huge hit on the streaming platform Netflix since its release on Sept. 17 of this year. After its release, more than 142 million households have seen "Squid Game" making it Netflix's biggest TV show ever. 
Netflix has addressed the popularity of which Squid Game has succeeded. In a letter to shareholders, Netflix said, "The breadth of Squid Game's popularity is truly amazing; this show has been ranked as our number one programme in 94 countries (including the US)."  
Seong Gi-hun (player 456), played by Lee Jung-jae, a divorced father and obsessive gambler is invited to play a sequence of children's games for a possibility at a large monetary reward. Accepting the deal, he is taken to an obscure area where he meets 455 other players who are also debtors. The players are held under watch consistently by masked guards, with the games overseen by a Front Man. The players soon discover that losing a game results in their deaths,with every death adding ₩100 million Korean Won, around $84,000 US Dollars, to the potential ₩45.6 billion Korean Won, $38 million US Dollars, total reward. Gi-hun aligns with different players to attempt to survive the physical and psychological twists of the games.
Before watching Squid Game viewers should be wary of the graphic content included in the series. Netflix recommends viewers to be 16 years old or older to watch Squid Game. There is a lot of violence and gore incorporated into the episodes making it inappropriate for younger viewers to watch without adult supervision.
Squid Game was written and directed by Hwang Dong-hyuk. Hwang Dong-hyuk's previous works include; The Fortress, Miss Granny, Silenced and My Father. The majority of his works are based on true stories and unfortunate events. However, Hwang Dong-Hyuk decided to write Squid Game based on his personal surroundings in 2009 after the major economic crisis. He succeeded in turning a disastrous real-world self event into an entertaining dystopian fantasy. 
As Squid Game became internationally well-known, a debate spread across social media about the quality of dubbed versus subtitles. Not only Squid Game, but watching any series or movie in a language it was not originally intended for can cause some troubles with translations, emotions and mouth synchronicity. Many western foreigners claim watching the dubbed version is "easier" as they can multitask and not have their eyes glued to the screen of their device. On the other hand, there are many who want to learn about and invest themselves into the series' popular Korean culture. There is no right or wrong answer, however, watching the series in dubbed could lead to a poor viewing experience due to mistranslations, lack of raw emotions from the original cast and the words will not match up with the actors' mouths.
Squid Game's plot is not only what brought it straight to fame, but also the characters and actors who portrayed them. One character in particular, Abdul Ali (player 199) depicted by Anupam Tripathi, displayed a friendly and kind-hearted disposition in this dark series. Later in the series, Tripathi's character teaches the world that no matter how amusing and pure one can be, others will continue to exploit and take advantage of them. Tripathi does a marvelous job at conveying such emotions needed from a sensitive character.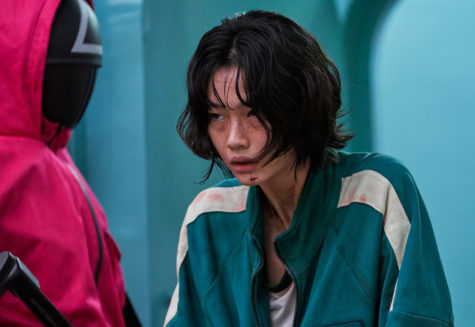 HoYeon Jung's character Kang Sae-byeok (player 067) really took the viewers' breaths away from her acting, beauty, and possible love interest. As the third main character in the series, she is a North Korean fugitive who decided to participate in these children's games to gain money so she can help her mother escape from North Korea and retrieve her brother from an orphanage. She was mainly a recluse and didn't converse with many of the other characters until she had to. Fans continue to speculate the true fate of HoYeon's character, no matter how far-fetched the theories may go.
Squid Game, apart from the massive success on Netflix, has also surpassed many views on social media platform TikTok. Memes and related content tagged "#squidgame" made on TikTok has surpassed 22.8 billion views in total. Junior Emily Schmidt, who has seen the series, said, "It was a really good show that kept you on the edge of your seat and you never knew what was going to come next." Turning the children's games from the series into trends has allowed Squid Game to gain many viewers from many different age groups. 
For those who have already seen the series and want more, you are just in luck, Hwang Dong-hyuk is so pleased with the outcome of Squid Game's first season, that the second season is already in the works. For those who have not yet seen the series, don't worry, there is still plenty of time to watch the first season as the second season is optimistically going to reach devices as late as 2022.