"Avatar: The Way of Water" looks to be a holiday season hit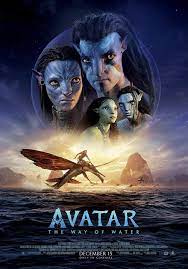 After a record setting first film of the series, "Avatar: Way of Water" has a lot to live up to. The series' next film is being released on Dec. 16, 2022. Fans of the fictional world of Pandora have been waiting to flock to theaters to see "Avatar: Way of the Water " and its anticipated cinematic experience. Avatar is known for its incredible "blue" legacy, and many people are excited to watch it. The director of this film franchise, James Cameron, has led these films to great success and no one expects less in the upcoming film. Variety said,  "Avatar" starting off at the box office is expected to bring in a rate of, "$150 million to $175 million." The first Avatar brought in $77 million. This film will hopefully lead to a second record-breaking start for the film franchise.
"Avatar: The Way of Water" is one of the first movies to have their films include new development in CGI. Just as Avatar's first movie "Avatar" was sent out in 2009 many speculated about the realness and how the film may look too cartoony. CGI, Or Computer Generated Images are graphics used to add depth and or any moving images to the film. With the new film being titled "Way of the Water" many fans are excited to see how this amazing CGI will come into play within the movie.  One excited fan is Mya Heinz, a senior at OHS. She said, "CGI looks amazing." Heinz is excited to watch the movie. Rotten Tomatoes have already seen the movie and are giving it a 79 percent and an overall audience score of a magnificent 94 percent. 
The start of the movie begins a little over a decade after the end of the last film. Though the last actors in these roles still have retained their charm, their characters such as Jake and Neytiri, the lead roles, tend to have to learn that it is okay to grow and still follow old ways. Many critics may have different thoughts on Cameron. That is because Cameron is a visual storyteller which makes Avatar so unique through the plot line. A review put out by The Atlantic stated that Cameron and his visual creative elements are well used to "accumulated scale in service of something genuinely jaw-dropping." Overall many believe in Cameron's ability and are very impressed with the film itself but expect nothing less from a director like him. 
Many fans have actually been waiting for the past few years to see this film due to COVID-19, which caused most of the production to take a halt. Despite taking a halt in filming many past actors will reprise their roles they had before, just in older age. For example, the lead, Sam Worthington, will be reprising Jake Sully. Many people had their own speculations with how these actors who have aged would reprise their roles, but many critics have been surprised at how wonderful the aging process was done through the movie with and without CGI. Earlier this week, Cameron tested positive for  COVID-19 and therefore will not be going to any premiere of the movie. Variety stated that he will still, "Continue to engage in publicity for the film, albeit virtually." Luckily, the production and premiere was not stopped again and Cameron is still very thrilled to have the film premiered. 
No matter what someone enjoys in the movie from CGI to more metaphorical visuals, "Avatar: Way of the Water " has it all.  Regardless of the halt in production and road bumps the cast and crew endured for their loving fans. No matter what may be keeping someone busy this holiday season, they should stop, sit down and watch an enjoyable cinematic roller coaster.