Options is an Option
"Tell me and I will forget; show me and I will remember; involve me and I will understand."
-Benjamin Franklin
Math, English, science and social studies are all subjects that students are required to learn to become critical thinkers, but how they learn these core subjects could make all the difference. Studies show that students who engage in inquiries and group learning projects tend to develop an advanced level of critical thinking. Options was designed to bring these studies into the school, and so far, students are passing with flying colors.
In the fall of 2008, Mrs. Val Rose, Mr. John Wiede and Mr. Tim Hunst started on a special assignment that would last an entire year. With money from the school board, they were assigned to spend the first three months researching new ways students could learn. After presenting their proposal in January of 2009, their plan was later accepted in February. But what exactly is Options?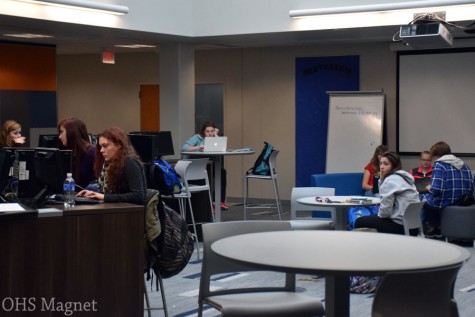 Ms. Rose said, "Options is a different way of extending learning from the classroom. We're not replacing the classroom at all because the classroom is the basis for learning." Options is all about independent learning, so self- motivation is a must for students thinking of pursuing this alternative learning path. There are several different ways a student can learn in Options, such as mentorships, inquiries, workshops and online classes.
However, before a student can start any of these projects, they are required to make a portfolio. Included in a student's portfolio are job references, best projects, past leadership activities and a personality analysis. These portfolios make great references for colleges. Extremely thorough portfolios have even been known to earn scholarships. Completing a portfolio will also earn a student a quarter credit at the high school.
Through a mentorship, a student is required to spend a certain amount of hours with their mentor, researching and designing a final project based on what they are learning. Mentorships are a great opportunity for students to meet with and learn from an adult that is working in a profession that they are considering pursuing. Often times, students will need to be organized and prepared to work outside of school hours to complete their mentorship. It is hard work, but in the end it is all worth it.
"
I like the freedom Options gives me to choose what I want to study and how I want to study it"
— Alyssa Sattler
The most common way students choose to earn credits through Options are inquiries. An inquiry is an independent study based on more in-depth learning. A student will choose an area of study they would like to know more about and then create a PowerPoint based on what they have learned. The credits received during an inquiry are based on the amount of hours a student puts into their learning. If a student was to take Options for one quarter, they will most likely earn a quarter credit. This class is great for students looking to study a subject more in depth or even learn about something completely new. Senior Alyssa Sattler said, "I like the freedom Options gives me to choose what I want to study and how I want to study it."
For students looking to earn some credits who are not as motivated to teach themselves, online classes and workshops are perfect. During a workshop, an Options advisor will teach the students a specific craft or skill. Some Options workshops include embroidery or sign language. Students have the choice to participate in workshops alongside an inquiry because workshops only meet three times a week. Workshops typically are worth a quarter credit. Online classes can be done in place of regular OHS classes or can even earn a student free college credit. The credits for online classes vary, and it is advised to speak to a counselor for more details.
For any student that feels like Options is not for them because they are not motivated or organized, do not fret! Options does a wonderful job at teaching students how to use their time wisely. From earning college credit to discovering more about a career, Options has something everyone can enjoy.
About the Contributor
Rebecca Schafer, Writer
Rebecca Schafer has always had an interest in writing. So magnet obviously suits her perfectly! This is the first year she will be taking it but she hopes...