We want you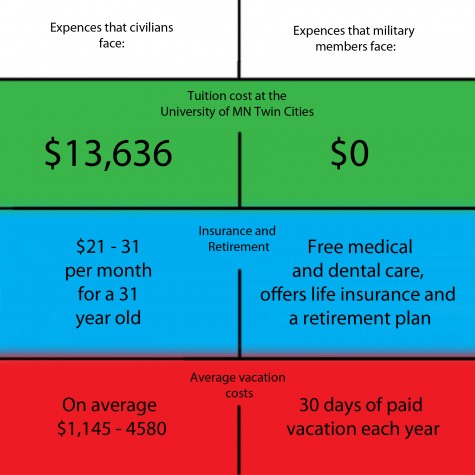 Every student is faced with post- high school decisions, such as choosing a college and career. Many students will choose to attend college or begin working immediately after high school. Often times, the thought of attending school for several more years is quite frightening. Many students feel pressured to attend a university, but some have trouble affording to go to college. An often overlooked option after high school is the military.
The military can provide educational opportunities to those who may not be able to afford them. Joining the military can be an extremely rewarding experience. Sergeant Nicole Gibson said, "I joined the Minnesota National Guard in 2005, and at the same time, I took college classes to obtain my masters degree in social work. I left the National Guard in January 2013 and came back the following November because I missed the team, and I missed being proud to put my uniform on. Through the military, I've met longtime friends. I've been offered great leadership roles, and I have been given the opportunity to help people build resumes, which is something I wouldn't have been able to do had I not joined the military."
The military offers many benefits one wouldn't be able to obtain through college, such as Tricare, which is a health insurance program. College tuition is paid for at the University of Minnesota- Twin Cities by the military, and those who join are given the ability to build their resumes. The requirements to join the Minnesota National guard include a 31 or better on the ASVAB test, a standardized test used by the military. They must meet height and weight requirements, schedule an appointment with their doctor to ensure they are healthy enough to enlist and be at least be seventeen years old and a junior in high school. Joining the military can be a great way to give back to the country and provide educational opportunities that are not available anywhere else.
To get more information on the military and the benefits, there are representatives from varying branches of the military that come into the school monthly. For dates and times, stop in the Career Center and check with Roxi Stewart.
About the Contributor
Kristen Rysavy, Writer
I was born and raised in Owatonna, Minnesota. In elementary, I grew up learning in a private school until I was in eighth grade. I'm a senior this year...