Running? More like funning
Girls Cross Country is having fun and getting fit
Halfway into the season, Girls Cross Country is really coming into their own at meets, especially after the many adjustments made at the beginning of the season. For starters, they team had to adapt to longer races, which are now 5Ks (3.1 miles), and a slew of new younger girls. Senior captain Elena Bueltel says "They're very strong runners, and it's been great to watch them run." So far, the girls have been running pretty consistently, with meets at River Falls, Austin and Faribault.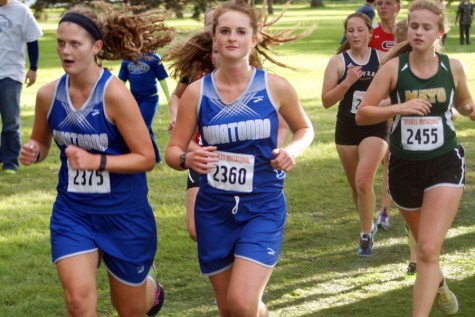 There was also a meet at Rochester Mayo last week on Thursday, Sept. 17, but it was cancelled due to lightning. Head coach Dan Leer is excited for the future. He said, "We've got a young team with not a lot of varsity experience, but we've been working hard this fall.We've got a good JV that's been scoring well at meets. So far so good. We're looking to make improvements the rest of the way." The rest of the team is excited as well and are a tight-knit group of girls, which really helps when they compete. Senior captain Zoe Keinholz said, "The season has been great! We have a fairly young team of girls, and they are doing really well. This season so far has been very fun, and I've gotten to spend a lot of quality time with all of my teammates. Dan Leer rocks as a coach."
That sentiment seems to be shared by everyone, as well as excitement for the future of the team. The next home meet is Oct. 8, at the Brooktree Golf Course.
About the Contributors
Grace Pyatt, Writer
Grace is the literal, actual reincarnation of Genghis Khan. Keep your homes and villages well defended because she's coming for you. When she's not conquering...
Noah Scheid, Photographer/Writer
The name is Noah... I wish it was spelt Knowa though, but that is a different story. I am a senior at Owatonna High School and I am involved in cross country,...