Life as a zombie
One extra's day behind the scenes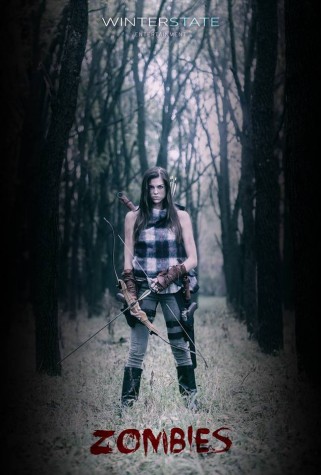 The opportunity of being a zombie does not come around often, but when it does, there is no turning it down! A zombie movie is being filmed in Owatonna and is entitled Zombies. The film features Tony Todd, also known for his role in Candyman, and America's Next Top Model runner up Raina Hein. There have been multiple film shootings around Owatonna that have allowed people to participate as extras in the film.
A day of being an extra begins at 8:00 A.M. in a location given by the casting coordinator via email. Once at the location, extras wait to be moved to hair and makeup. In the hair and makeup room, makeup artists use airbrushes to spray different hues of makeup representing discoloration and veins onto the face, hands and necks of individuals in order to create an "infected" appearance. As for hair, au' natural works fine so extras can embrace their bed- head.
After extras are given their zombie appearances, they are then moved to a section of the room dedicated for wardrobe. Extras are asked to arrive in clothing they would not mind getting dirty. However, they might be asked to wear something else, depending on what kind of zombie the wardrobe personal thinks they should be. For example, if an extra has a beard, they may be given a leather vest to appear as a biker zombie. After the wardrobe personal are finished, dirt and charcoal are applied to the clothing to make the extra appear roughed up. Fake blood is sprayed and rubbed onto the clothing to play up the zombie appearance.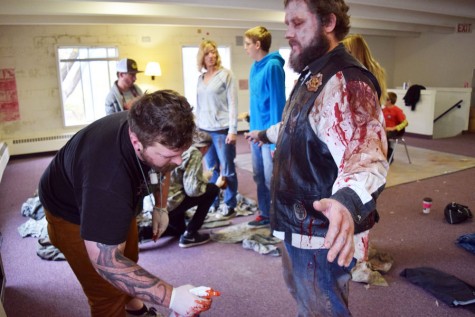 When makeup and wardrobe are completed, extras ride to the shooting location. On set, the extras are told where to stand. Some extras stand closer to the camera, but most are used to fill in the background. The zombies closer to camera are known as 'hero zombies' because they get featured more in the film.
Before filming, the extras and actors go through rehearsal run-throughs. At 12:00 P.M., there is a break in filming, and extras are paid for their time in the form of Domino's Pizza and water. The extras are given an 8:00 A.M. to 6:00 P.M. call time, but shooting does not always continue that late, and extras can leave sooner if, for some reason, they cannot stay.
Overall, being an extra in a film is a fun experience and for people considering entering the entertainment industry, it is a good opportunity to see what actually happens in the process of creating a film.
About the Contributor
Katie Reneau, Writer
I'm a senior and I love to write. My hobbies include singing and playing guitar. I'm still deciding on what I want to study in college, but will most likely...