Rolling into sections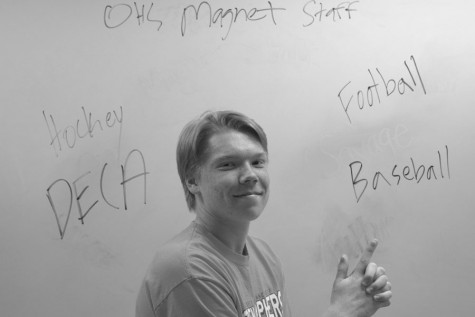 More stories from Sam Hylle
The OHS Boys Basketball team concluded their regular season with a disappointing loss on senior night to Austin. The Packers were able to score 67 points on the Huskies consistently stingy defense, with a few star caliber players making shot after difficult shot. Senior, Nick Raichle commented, "Austin has a few guys who can ball, it didn't matter how great of defense we played, they still made shots." This kind of defensive struggle is abnormal for the Huskies, who have prided themselves on holding opposing teams to minimal point totals, leading to numerous close games. Owatonna's most impressive win came against number one ranked Red Wing, where the Huskies held the Wingers to just 13 first half points. Senior, Eli Havelka said, "Everyone just committed themselves to not letting the guy across from them score. We rotated very well and made them take bad shots. I'm really proud of the way the guys played; I'll never forget that game."
Huskies finished with a 13-13 record, which is nothing to laugh at considering the talent in the Big 9 this year, with multiple teams boasting one if not two Division I commits. Owatonna was able defeat one of such teams when they won against Northfield on a last second layup by Eli Havelka. Mason Thein held 6'8" senior, Luke Harris, to a few jump shots, but erased him from the game in the post. The Huskies shuffled their lineup around throughout the year, but have recently settled into a senior dominated core just in time for the playoffs. The six seeded Huskies will travel to Lakeville South for the first round of section play. Although Lakeville is the three seed, Coach Williams has confidence in his team and a specific strategy, saying, "Our main focus has been on specific match ups and what we need to do defensively to put ourselves in a position to win the game. Additionally, we are just trying to refine and sharpen up what we run on offense." Owatonna looks to continue their successful season tomorrow, Feb. 24, in Lakeville.
UPDATE: OHS Boys basketball lost in the first round of sections to Lakeville South.
About the Contributors
Sam Hylle, Sports Writer
I'm a borderline ginger  who likes to write. I play three sports, but my one true passion is fantasy football. I'm involved in Young Life,  and I wear...
Matt Summer, Writer
I am a junior at the Owatonna high school. I wrestle and I am planning on golfing this spring. Some of my hobbies include watching/playing sports, hanging...