OHS DECA takes on districts
DECA is an organization at Owatonna High School where students compete in different events with focuses in human resources, marketing, supply chain management and more. Students learn how to solve real-world problems by using creative solutions. 
DECA students enjoy being able to compete with their friends and learn real-world skills. Third-year DECA participant junior Lileigh Nguyen said, "I like how much of DECA is up to you, you pick all of your own events and partners and it's up to your own volition what you compete in, you get to base it around your own interests." 
This year Owatonna's DECA chapter competed in-person for districts on Jan. 7, 2022. Students compete in group role-plays and individual role-plays. In the role-plays, the student will pretend to be in a business situation and will have 10 or 30 minutes to prepare their ideas. Other events such as start-up business plan and sales demonstrations are prepared before districts and students do not have time at the competition to prepare before speaking with the judge. Owatonna's DECA chapter adviser Mr. Scott Pierce said, "DECA is a group of marketing students who are working on their leadership, marketing, and entrepreneurial skills. The Owatonna Chapter has 105 members grades 9-12. The events at the conference involve role-plays, presentations, interviewing, and entrepreneurship and marketing ideas.  Many members of the community also participated at the event as judges and check-in receptionists."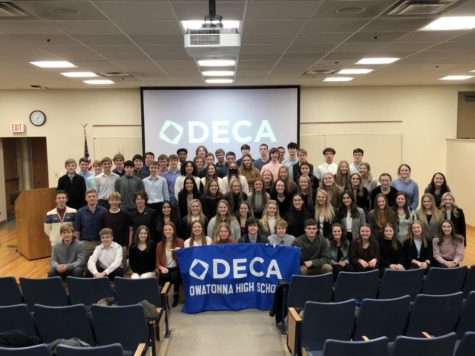 Owatonna's DECA chapter had over 70 students qualify for state, to qualify students must be top 8 in their event. Nguyen will be competing for the first time at the in-person state competition, she said, "I am excited to go to state. Especially with a weird last year, I am looking forward to going to the cities to compete." 
The students who qualified for state will compete on March 6-8 at the Hyatt Regency in Minneapolis for a shot at qualifying for the national competition. 
State qualifiers include: Madeline Wilker, Kennedy Wilker, Janessa Moore, Kiara Gentz, Lileigh Nguyen, Luke Wottreng, Cael Dowling, Afton Torabpour, Lilly Trager, Annika Wiese, Haley Meiners, Aubri Werk, Olivia Shaw, Maddie Jeno, Maria Mollenhauer, Moriah Noeldner, Abby Vetsch, Sam Pfieffer, Kate Havelka, Ava Schauweker, Leah Welker, Bailey Manderfeld, Audrey Hylle, Karmen Eaton, Avery Hartman, Will Wottreng, Nils Gantert, Blake Burmeister, Garrett Stelter, Caleb Vereiede, Jack Thamert, Katrina Ethen, Maurice Dut, Lainie Rahn, Isabella Schultz, Nate Rions, Marlee Dutton, Evan Dushek, Becca Nielsen, Kya Dixon, Henry Hilgendorf, Jonny Clubb, Derek Klecker, Katie Trenda, Karys Richardson, Jenna Dallenbach, Kate Sande, Claire Heyne, Lily Moriarity, Alex Huemoller, Avery Becker, Sydney Hall, Amanda Clubb, Cael Dowling, Jack Heglet, Aza Lewis, Tanner Smith, Damian Boubin, Ezra Oien, Finn Loveless, Abby Medo, Emma Myer, Lauren Thamert, Hillary Haarstad, Sarah Snitker, Korah Rocha, Ava Eitrhem, Jayden Omangi, Jose Rosas, Jack Sande, Drew Henson, Logan Langeberg, Damian Boubin, Connor Ginskey, Preston Meier, Audrey Simon, David Smith, Halle Oldefendt, Tyrel Creger, Haley Meiners, Mariah Cuellar, Joe Zeman and Dylan Meiners.